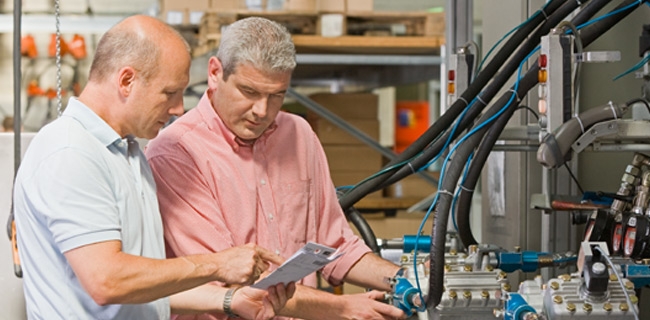 Services offered by "Ecolux" complete the vast range of products just to offer the client a complete and adequate solution for his/her business.But in order to be able to offer competitive services you have to add the real value, which cannot be bought or expressed financially; this is conferred by the Professionalism and the Integrity of the Ecolux team.
Maintenance service activity fulfilled by Ecolux throughout the country is assured by refrigeration engineers and specialists with experience, respecting effective procedures and norms, environmental protection legislation and EU standards.
Consultancy services
SC "Ecolux" SRL offers to its clients, and also to each ordinary consumer: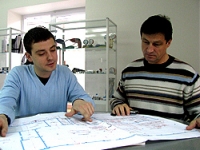 Recommendation concerning the technology of storing the products (temperature, moisture, controlled climate);
Recommendations concerning the technical parameters of the refrigerating equipment and its selection in conformity with the requirements of the client;
Recommendations concerning the cold supply system (centralized and separate);
Recommendations for technical service;
Recommendations regarding installing of commercial spaces.
Turn Key Projects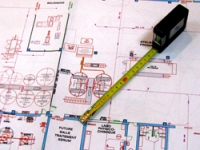 Turn key projects, starting with initial data research and finishing with final order execution is the aim of ECOLUX SRL.With this particular component of our business we are addressing to meat and sausage producers, milk and dairy products, bakery and confectionary, storehouses for fruits and vegetables, markets and supermarkets, restaurants and bars, units for keeping the products under low temperatures.
In order to be able to manage such projects from the beginning until the end you need experience and professionalism, and also necessary material and human resources.
Installing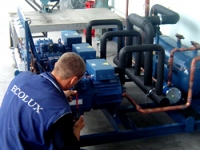 SC "Ecolux" SRL has its own workshop.We have the possibility to assembly refrigerating plants, liquid coolers, various condensing units designed for atypical applications, and electric panels adapted to the client need and to the particularities of each project.
This particular component of our activity aloud to be ready to each client's inquiry, having a considerable stock of spare parts adapted to the specific needs of every client.
All the units are tested before mounting in our workshop, averting the major producing defects and decreasing the losses of the potential clients.
Our Company has its own transport units, providing urgent maintenance works, inspections and capital repairs.
Maintenance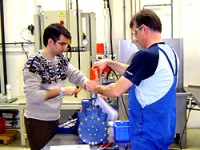 The connection with our clients is not concluded once the projects are finished. A very important component of the integrated value of our products is the post-sales and post-warranty service.
SC "Ecolux" SRL has at its disposal a supplying system improved at high standards, including qualified personnel.
Stock Delivery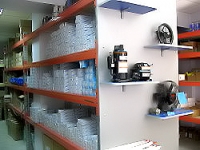 ECOLUX SRL is not addressing only to the end-users of the refrigerating, ventilating and air conditioning units, but also to the small enterprisers and to the companies specialized in assembling and service activities.The possibility to supply at once and certain place the clients with all the necessary spare parts are an important part of our activity.
In this way at the clients' disposal in our storages there are a lot of units and spare parts for refrigeration, ventilation and air-conditioning fields.